PROFILE
Roubi L' Roubi – Costume designer and creative director.
Roubi L'Roubi is a London-based creative director, costume designer and producer of modern and contemporary art exhibitions.
He is a graduate of Imperial College, University of London with a degree in mechanical engineering. Following his academic years, he worked in the fashion industry launching his eponymous label in 2004 on New Bond Street, before acquiring Huntsman of Savile Row tailors in 2013 where he acted as creative director.
L'Roubi's unique combination of technical skills and creative design has won him industry recognition and prominence on the international stage as an acclaimed fashion and costume designer working with some of the world's most influential men and women. His designs include the polo kit for the Sentebale Polo Cup led by Prince Harry, as well as ecclesiastical vestments for the Dean and Canons of St. Paul's Cathedral.
A member of the Hollywood Guild of Costume Designers (CDG), L'Roubi's film credentials include 'Nina' starring Zoe Saldana where his period designs are featured in this biopic celebrating the life of singer Nina Simone.
L'Roubi is currently active in production and creative direction in both film and art.


Dedicated to the highest standards of excellence in men's and women's tailoring and country wear.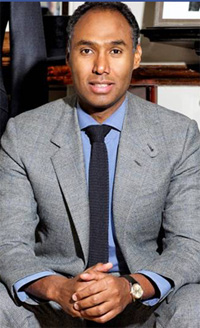 Roubi L'Roubi